Concrete Reasons Why Jatco Flanged Test Cylinder Molds Are the Very Best Value.
Flanged top design preferred by many professionals
Improves rigidity
Easier to grasp and pick up
Keeps cylinder round, even without a lid
Lids fit tighter
Maintains specimen shape
Provides for trowelled surface
Made from post-consumer recycled plastic
Environmentally conscience
Priced for excellent value
Available in standard gray or custom colors
Gray for easy mark-on
Custom colors for corporate identity
---
Standard concrete molds meet ASTM C470-94 and C180-94 standards.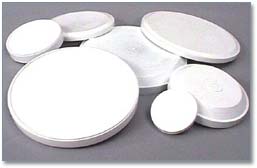 Rib-reinforced bottom
Adds strength, durability
Available in most-popular 6×12 and 4×8 sizes
Manufactured at a site close to you
Minimizes freight costs
Adds convenience, dependability
Combination pricing cuts costs, extends value
Order 36 cases of 6x12s and get the third price break on any other product ordered concurrently
Custom printing on both front and back sides
Advertising messages, company logos, corporate identity
Job information, site identification, etc.
Mold stripping tools also available
Makes sample removal quick and easy
Click here to learn about the difference between Lip and Non Lip Test Cylinders.
Available with or without tight-fit lid
Lids for JATCO flanged test cylinder molds are domed and provide for a "trowelled" surface. A manual stripping tool is also available. This heavy-duty tool is 19" long and features a strong plastic handle for years of trouble-free use.
How to Order…To place your order, or to get more information, call 1-800-445-2826 or fax to 1-510-487-6646. Our customer service staff will see to it that your order is filled quickly and efficiently.