Panel Pads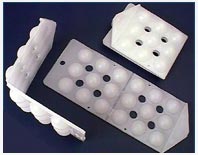 JATCO'S PANEL PADS can be used flat or folded double to create a larger separation between your precast concrete products during storage and shipping. This helps eliminate concrete chipping, fracturing and stacking damage. Panel Pad dimensions are 6 1/2″ x 2 1/2″. Our plastic Panel Pads can also be used to protect rock, stone, architectural facades or any finished surface.
JATCO'S PANEL PADS are manufactured using recycled, heavy duty materials. The use of recycled materials helps to save our environment and saves you money! JATCO guarantees your satisfaction with these products!
250 pk. - 25 lbs. per case

Case Quantity
Price Each
Case Price
1-5
$0.36
$90.00
6-10
$0.34
85.00
11-20
$0.32
$80.00
21 +
$0.30
$75.00
Be a part of the environmental solution.  JATCO'S PANEL PADS can be 100% recycled.  Contact your local recycling agency for information regarding recycling of your used panel pads.
All priced are quoted F.O.B. Modesto CA 95356